LIFE
Finché porterai un sogno nel cuore, non perderai mai il senso della vita.
Mahatma Gandhi

MARINA CORSO
Ho trascorso la mia infanzia a Marano Lagunare in provincia di Udine, qui è nata la mia passione per l'arte pittorica in particolare figurativa. Artista autodidatta, all'improvviso, mi accorgo, nel 2014, di non riuscire più a dipingere con i pennelli avendone quasi paura, e capisco di dover cercare o meglio inventare una nuova tecnica espressiva. L'ho chiamata "Primitive-Actual", (tecnica che prevede solo l'uso di strumenti trovati in natura al posto di pennelli, spatole, matite, ecc.). Nel luglio del 2017 ho partecipato al prestigioso "Premio Internazionale Arte Milano" a cura dell'editore Sandro Serradifalco, ricevendo il premio di "Migliore natura morta" con il dipinto "Pensiero nascosto", scelto successivamente dal critico d'arte Professor Vittorio Sgarbi per essere inserito nel suo futuro Museo di Arte Contemporanea. Faccio anche parte degli artisti di "Prima scelta " del critico d'arte Professor Paolo Levi.
Le mie opere vengono esposte a livello sia nazionale che internazionale.
-
I spent my childhood in Marano Lagunare in the province of Udine, where my passion for pictorial art, particularly figurative. Born as a self-taught artist, all of a sudden, in 2014, I realize that I can no longer paint with brushes, almost afraid of them, and I understand that I have to try or rather invent a new expressive technique. I called it "Primitive-Actual", (a technique that only involves the use of tools found in nature instead of brushes, spatulas, pencils, etc.). In July 2017 I participated in the prestigious "Milan International Art Award" by the publisher Sandro Serradifalco, receiving the "Best Still Life" award with the painting "Hidden Thought", subsequently chosen by the art critic Professor Vittorio Sgarbi for be included in its future Museum of Contemporary Art. I am also part of the "First Choice" artists of the art critic Professor Paolo Levi.
My works are exhibited both
nationally and internationally.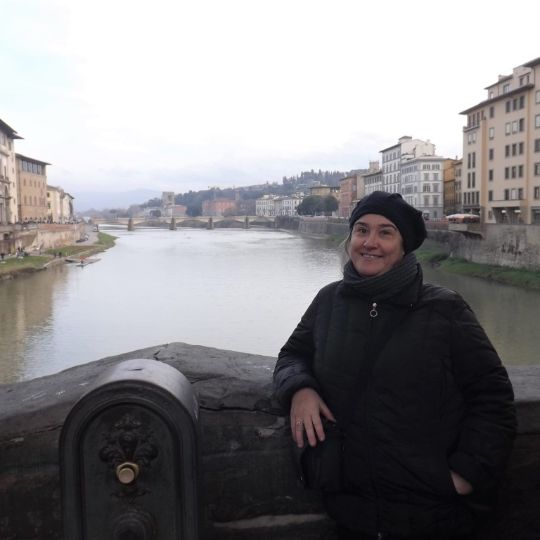 Primitiva e attuale, la mia arte fa volare nel mondo la mia fantasia
Primitive and current, my art makes my imagination fly around the world

LA MIA VITA ARTISTICA
Nella mia cucina, fra pentole in ebolizione e profumi invitanti, creo le mie opere artistiche Erbe aromatiche, verdura, pelo del mio gatto e ciò che trovo in natura, diventano strumenti che mi fanno volare nel mondo incantato dell'arte. Le mie opere, ispirate dal mio cuore, vengono elaborate sopra un vecchio tavolo dove una tazzina di buon orzo caldo, mi tiene compagnia. La mia arte non richiede uno studio, un laboratorio per lavorare, la mia arte è libera, genuina come lo sono io, se non fosse così, non potrei più creare. I miei pennelli li raccolgo nei giardini, nei boschi, in riva al mare o semplicemente nel frigorifero, la natura mi è amica e collabora con me alla realizzazione delle mie opere.
Vivo e lavoro a San Giorgio di Nogaro, Udine, ho un figlio Alessandro e un compagno Filippo che mi accompagnano in questo viaggio artistico con entusiasmo, e tre gatte che completano con la loro presenza le mie giornate, regalandoni con le fusa, quella armonica sensazione di essere parte dell'universo.
-
MY ARTISTIC LIFE
In my kitchen, among boiling pots and inviting perfumes, I create my artistic works: Aromatic herbs, vegetables, my cat's hair and what I find in nature, become tools that make me fly into the enchanted world of art. My works, inspired by my heart, are elaborated on an old table where a cup of good hot barley coffee keeps me company.
My art does not require a studio, a laboratory to work, my art is free, genuine as I am, if it were not so, I could no longer create. I collect my brushes in the gardens, in the woods, by the sea or simply in the refrigerator, nature is my friend and collaborates with me in the realization of my works.

I live and work in San Giorgio di Nogaro, Udine, I have a son, named Alessandro, and my life companion Filippo, who supports me on this artistic journey with enthusiasm, and three cats who complete my days with their presence, giving me, with their purr, that harmonic sensation to be part of the universe.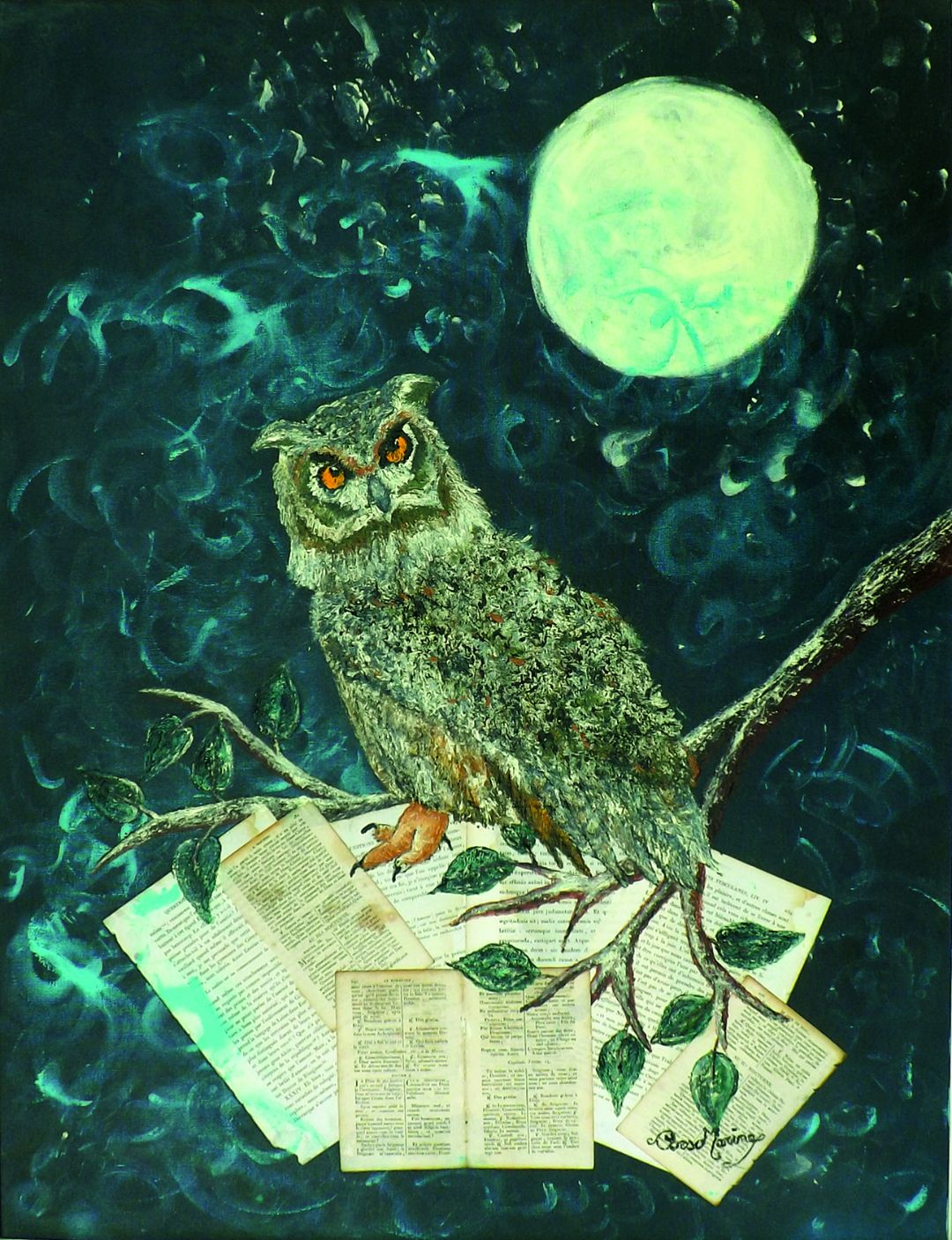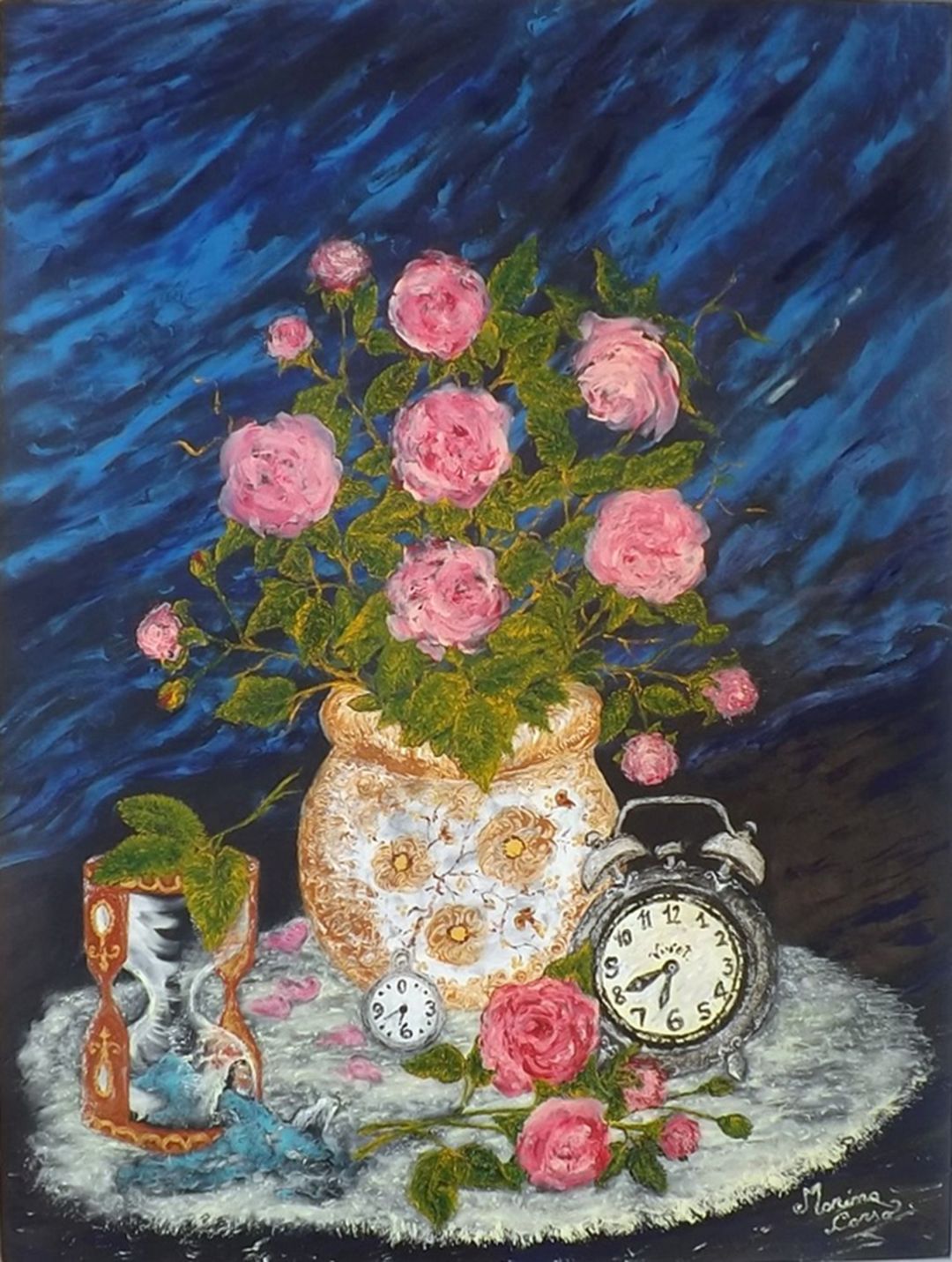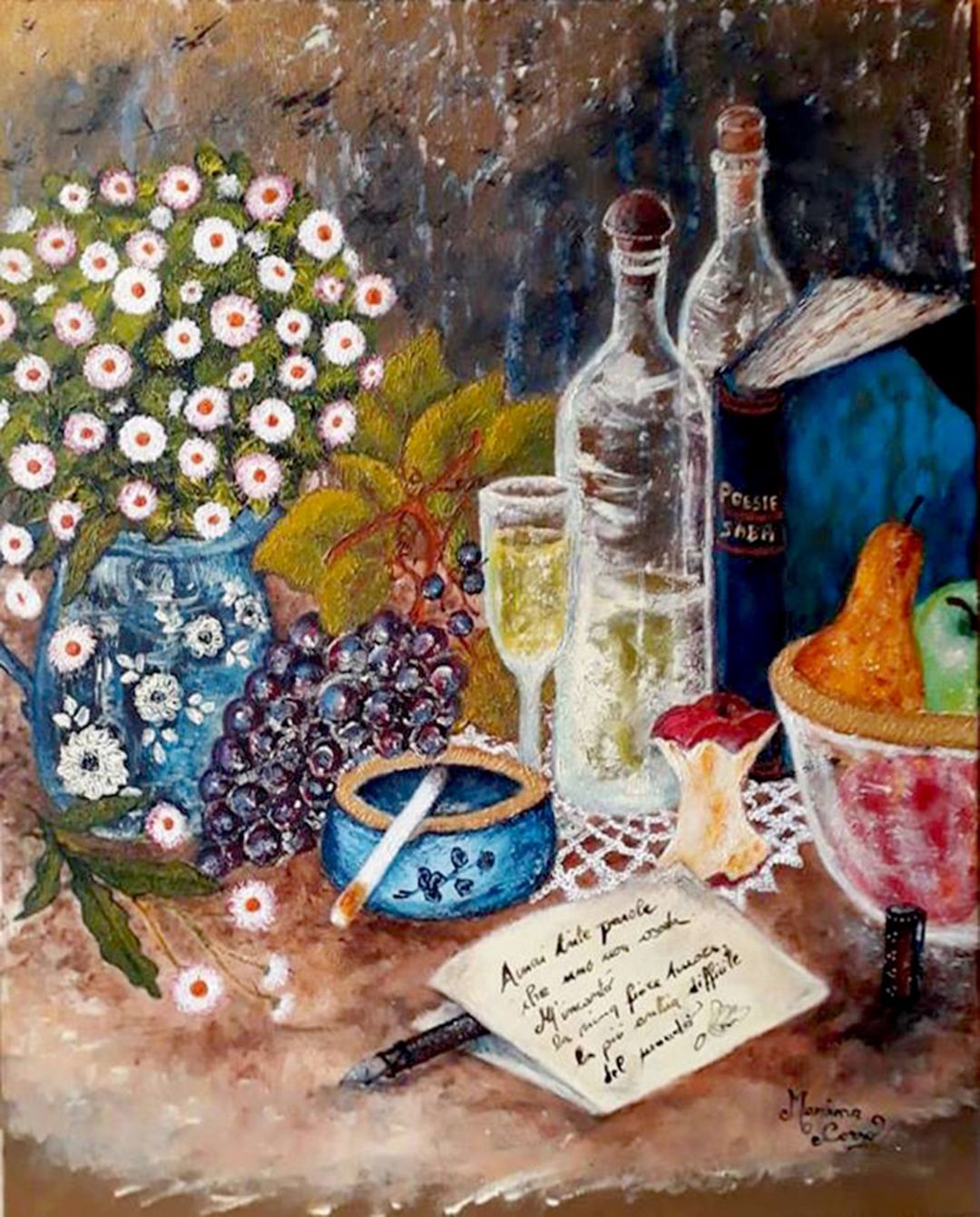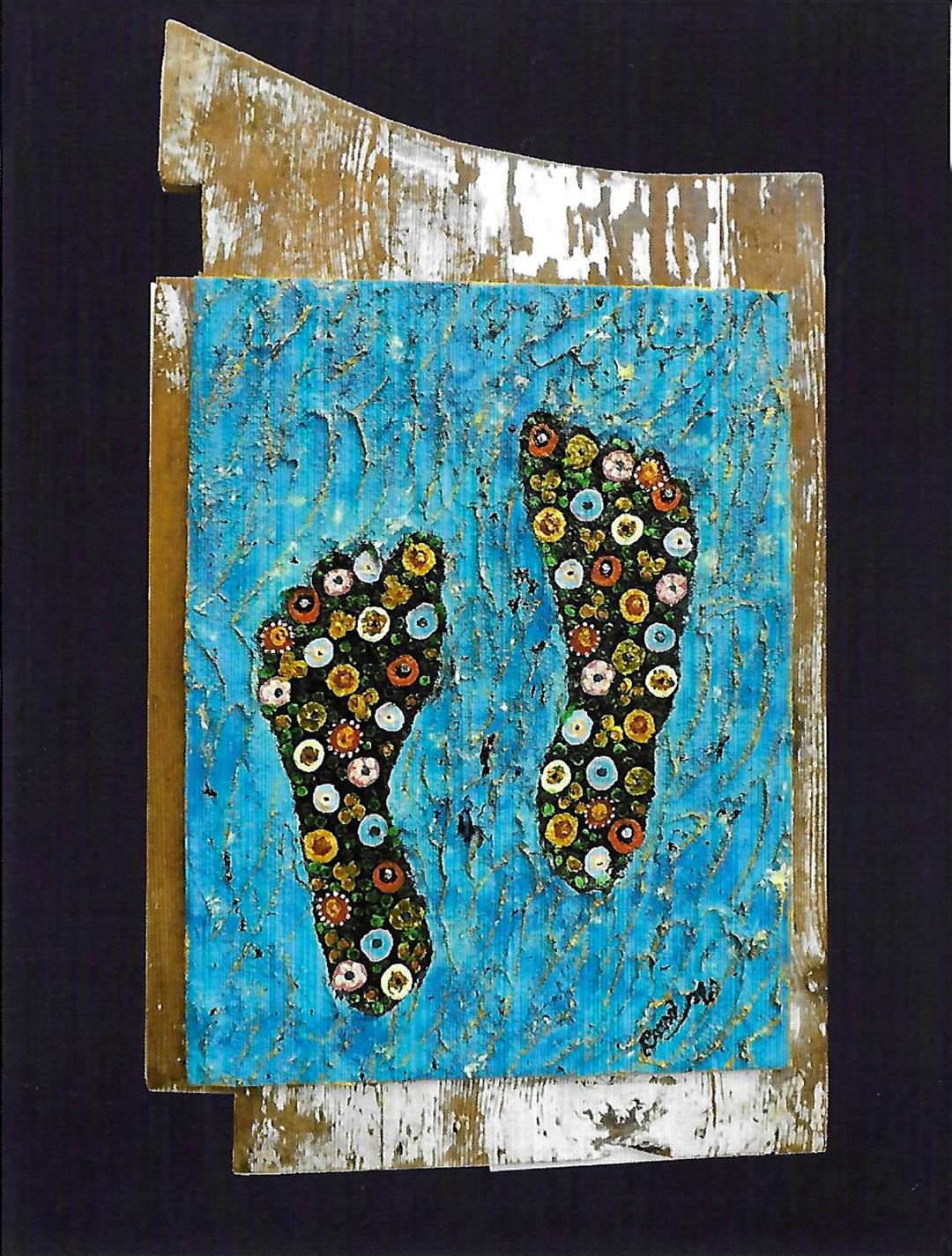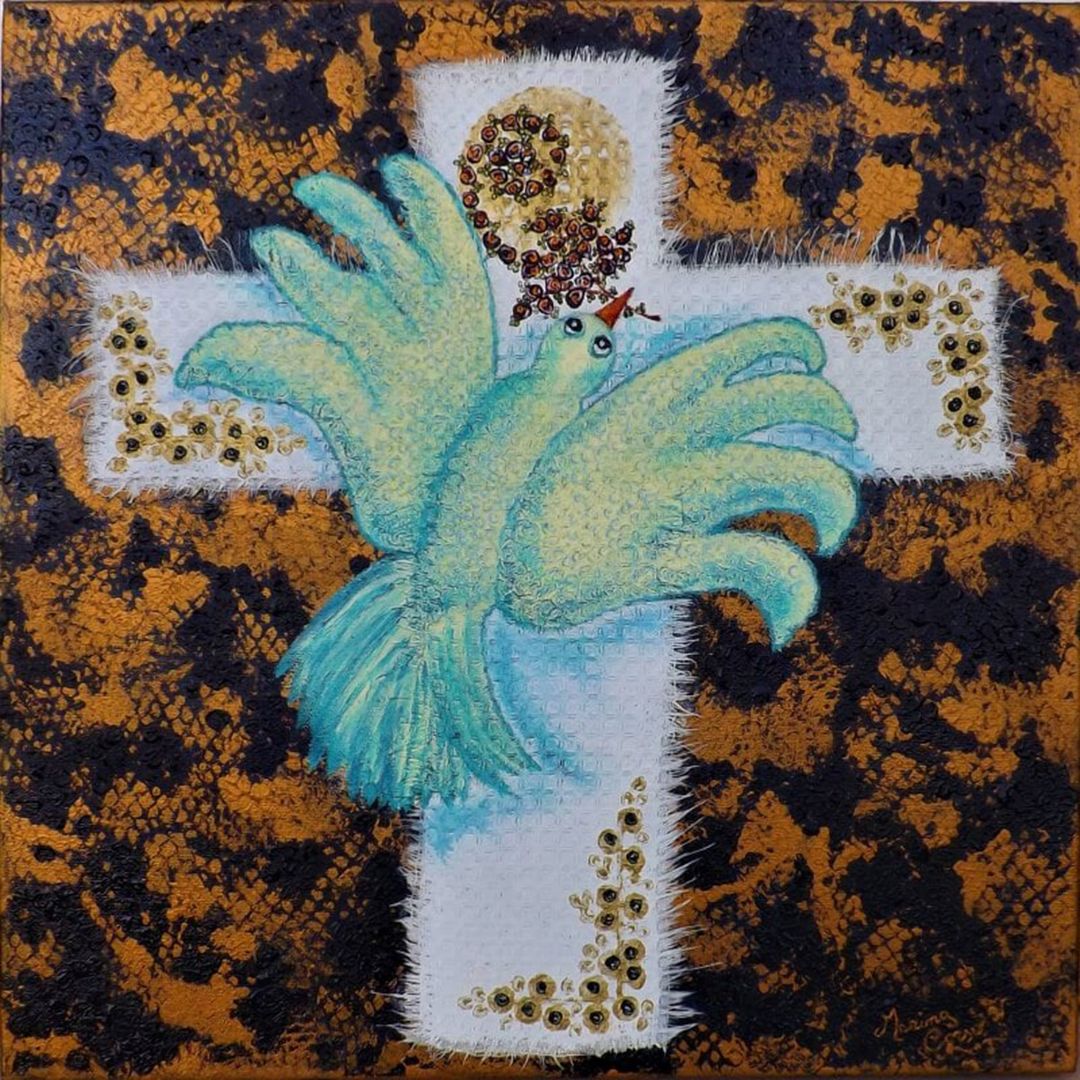 La via, la verità e la vita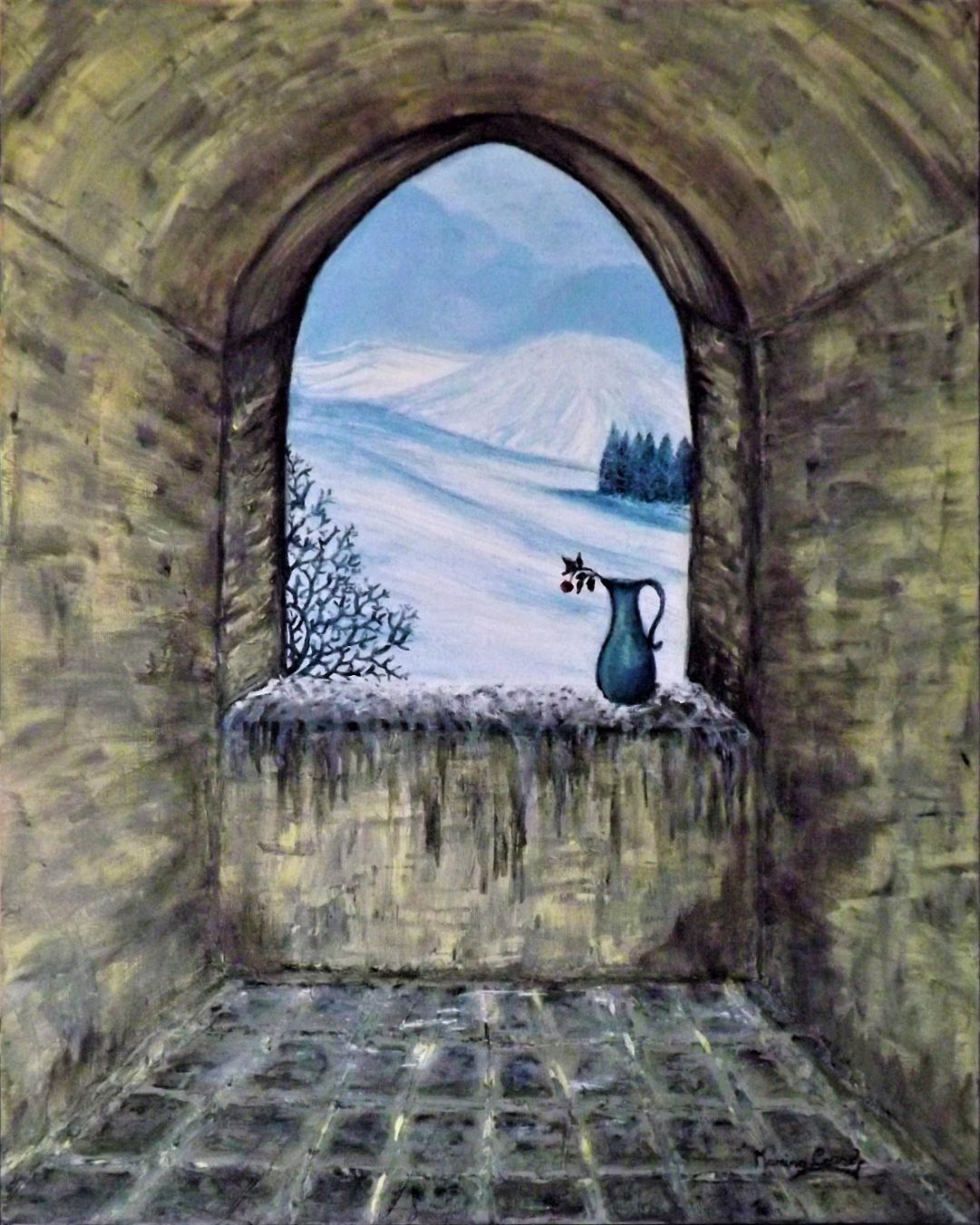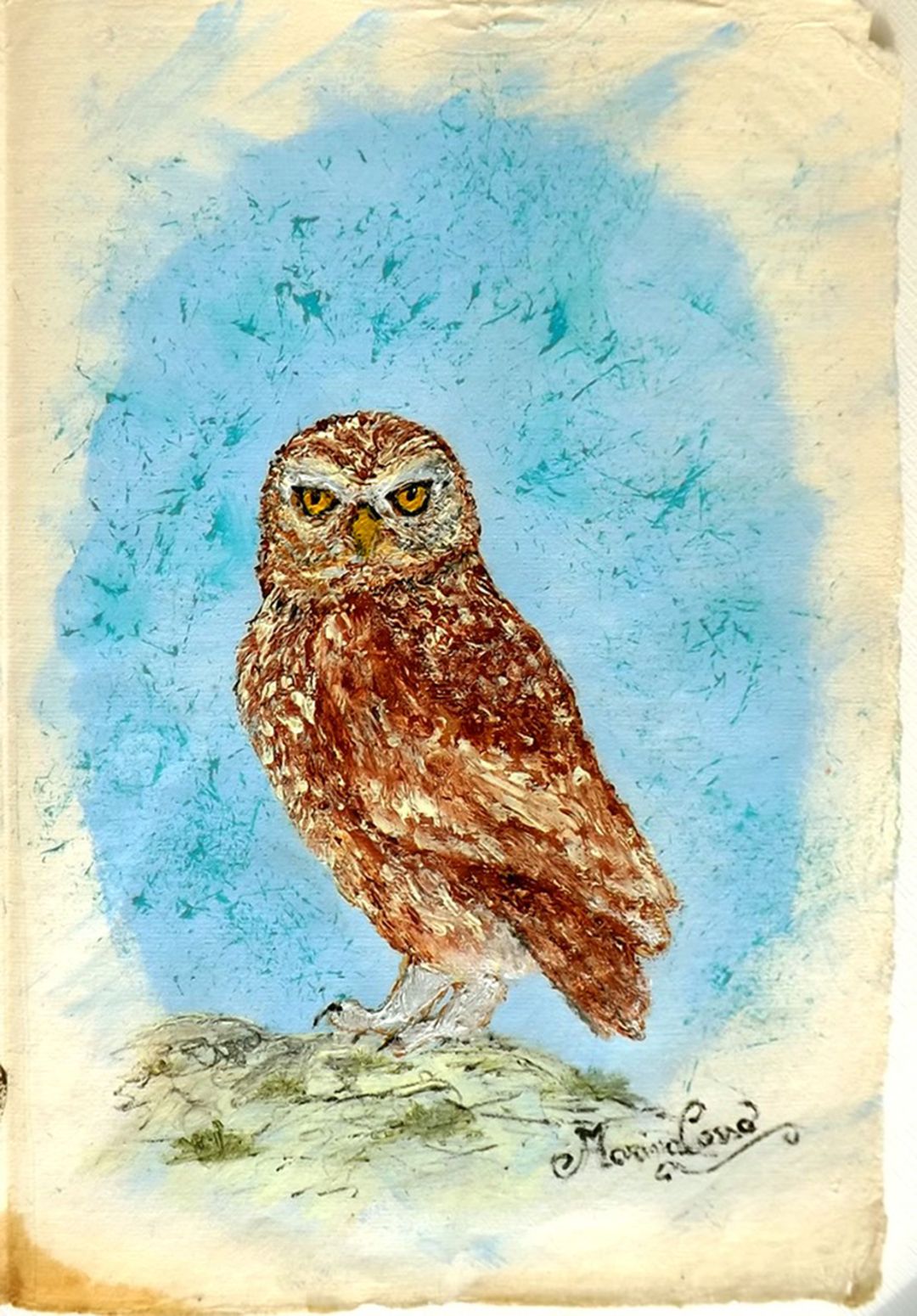 Civetta su manoscritto 1800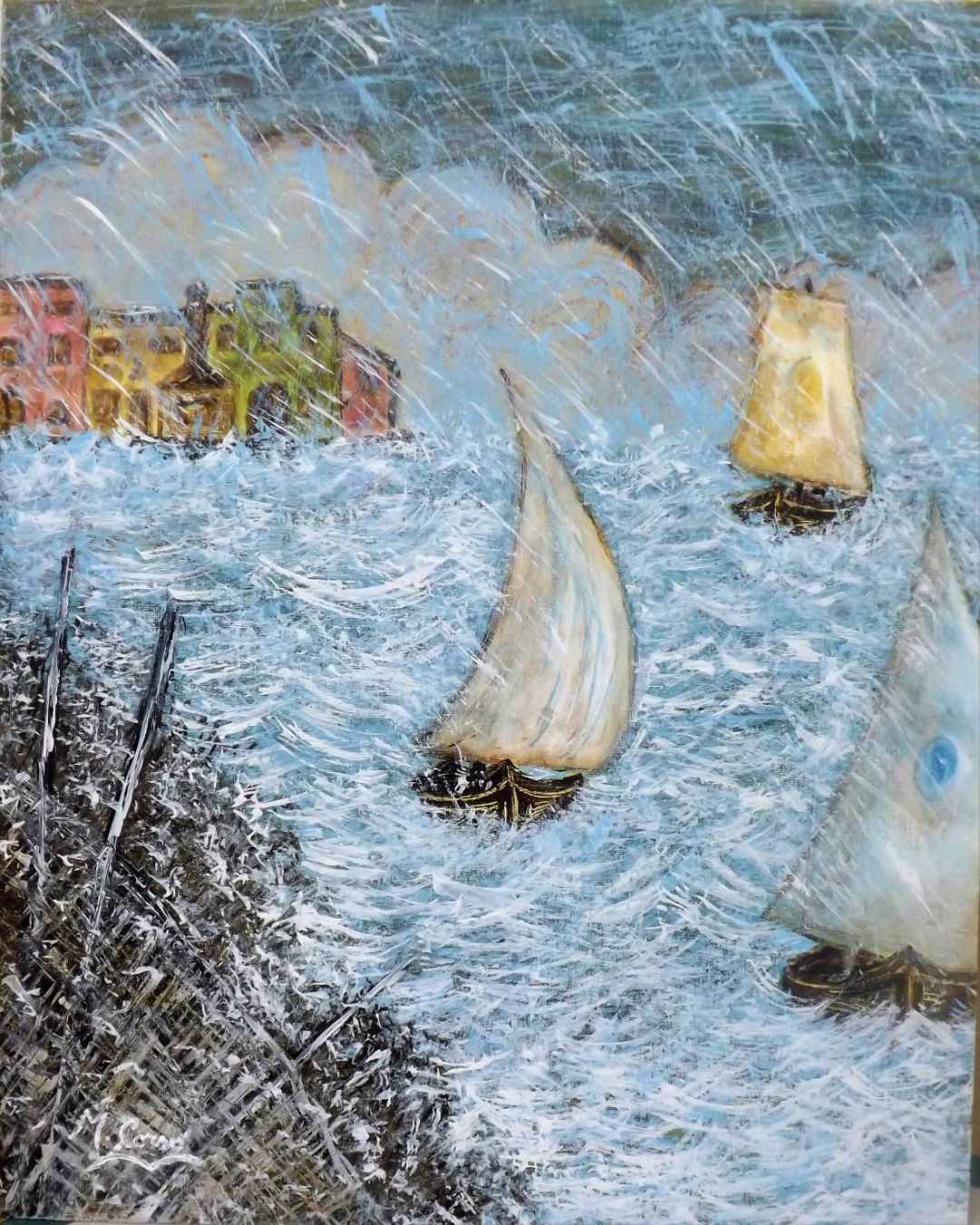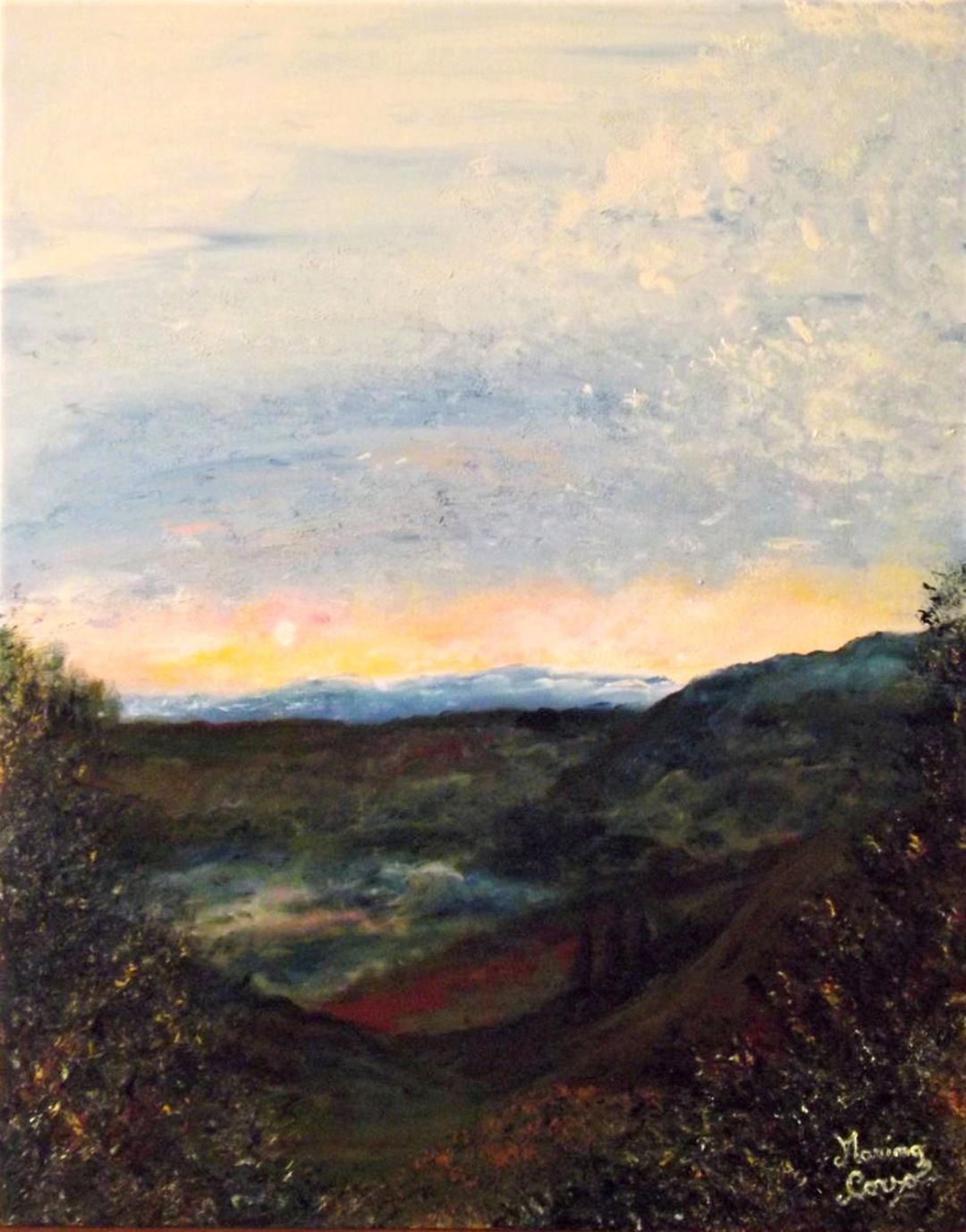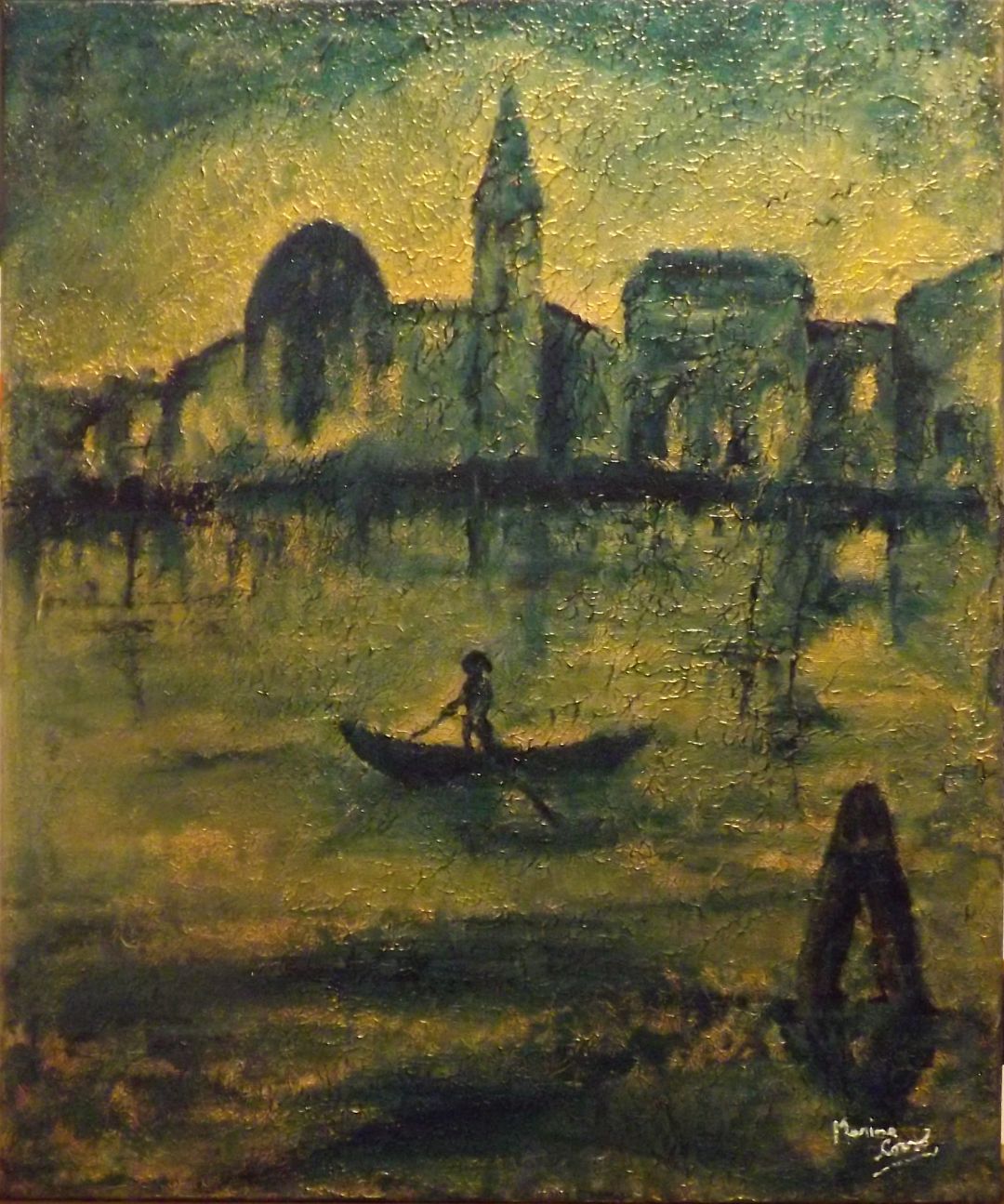 EXHIBTIONS
Dove mi porta l'arte, senza il cuore non ci vado!
Wherever art takes me, I won't go without my heart!




Con i Critici d'arte - With the art critics:

Vittorio Sgarbi - Paolo Levi - Angelo Crespi - Marco Rebuzzi e Vittorio Sutto.

INSIDER NEWS
https://www.art-insider.com/the-poetry-and-colors-of-nature-in-the-art-of-marina-corso/3122

Marina Corso was born and raised with art, making her way through the storms of life. Then came an intuition: to paint with everything natural around her, from feathers to carrots. And for some years now, even art critics have noticed her, Vittorio Sgarbi, Paolo Levi, Angelo Crespi. The world of Marina Corso, artist born and lived in Marano Lagunare (Udine), is made of these and many other things; poetry, for example, a form of expression that she has always put side by side with painting, as befits a well-rounded artist. To her beloved country of origin the artist has dedicated a board game, El ziogo de Maran, a sort of goose game she conceived and created in 2019 thanks to a collection of three hundred and fifty vintage postcards that she proudly keeps.
Conversing with Marina, from the very first lines you realize you are dealing with an uncommon person, an uncovered soul, exposed to the bad weather of the world, but at the same time tenacious, animated, as she confesses, by a strong spiritual drive. "I'm introverted," she explains, "I don't like being around people, I don't like being filmed by cameras. I would like my art to talk about me, about the various moments in which I created my works". Marina Corso's paintings are an explosion of colors and sinuous shapes, manifestation of a paradoxical extroversion that lives only through delicate and wise touches of color. Her style is indefinable; someone has approached it to the dreamy images of Chagall or to the essentiality of the naif. But this is only the style, (or rather, the styles, modified over time) of Marina Corso, who explains: "Paolo Levi could not believe that it was possible to paint with the elements of nature in such a definite way". The art critic Levi discovered Marina Corso in 2018; while already the year before Vittorio Sgarbi selected the painting "Pensiero nascosto" to be destined for his future Museum of Contemporary Art.
Painting has accompanied Marina since childhood: "As a child, my teachers were my parents and grandparents. Then I received my first small prizes, in the fifth grade for a watercolor, and at twelve years old in a drawing contest," says the artist. In Marano Lagunare, a small town where, despite being in Friuli, a dialect similar to Venetian is spoken, the artist proceeds in life between painting ("I used to paint for my grandchildren") and many important episodes that mark her in body and soul. Repeated road accidents make it difficult for her to use her hands, while the encounter with a mistaken love throws her into a dark period that she will overcome thanks to the presence of her son. For him, once the sad marriage has been put aside, she finally takes up her pencils again and creates more than 400 drawings for a local collector. The proceeds from the sale of her works will contribute to the maintenance of her beloved child. The meeting with her new partner, who encourages her to continue, leads Marina towards a private and artistic turning point: in 2014 the technique, entirely personal, that the painter defines Primitive Actual was born. Corso explains: "I was in the kitchen, which is also my atelier, since I don't have a real one, nor would I want one. I was preparing soup and I thought I could paint with what I found in nature. Cut vegetables, for example; but also wood from the sea, feathers lost from chickens, and so on". Thus begins a new moment in the artistic life of Marina Corso, who, in this period, is thinking of using even the pieces of wax that come out of the bees' hives, thanks to a local beekeeper who cuts them up and gives them to her. She recently painted the work "Bacchus, Tobacco and Venus," using wine instead of water to dilute the colors, and exhibited it at a wine fair in the Veneto. "I don't set limits on the materials I can use," the artist explains.
The lockdown was especially hard on someone who has long had health problems. And who during those months had to undergo surgery, followed by a risky recovery. "We were locked in the house, but I couldn't paint as much because I was in pain," she says. "Sometimes I already feel lucky to be able to make paintings and to have made it this far despite my problems. I think that if I should no longer be able to paint, the Lord will find another way for me to express my creativity," Marina explains, confessing a deep faith, which, she says, she does not necessarily express by participating in religious rituals.
In these weeks, Marina Corso's works are on display as part of the exhibition Troisi Poeta Massimo, open at Castel dell'Ovo, in Naples, until September 26, 2021. In October, Corso will exhibit in Ferrara, as part of a group show; while waiting for her solo exhibition that will be set up at Galleria La Loggia in Udine, in December 2021.
Letizia Riccio - The Art Insider - 12 novembre 2021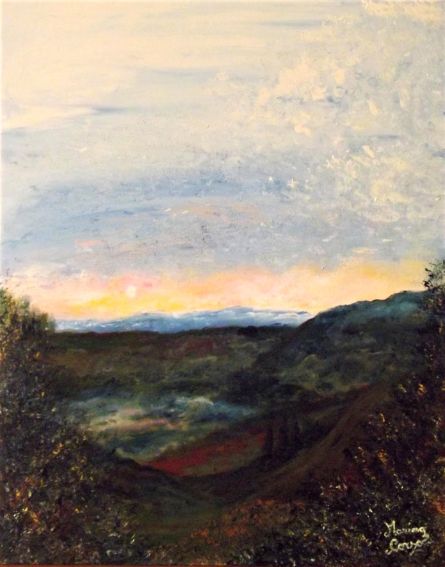 MARINA CORSO, PITTRICE (E POETESSA) "ATTUALE E PRIMITIVA"
Il Giornale OFF.it 01 aprile 2019

Marina Corso è una poetessa autrice di poesie in vernacolo e pittrice autodidatta di Marano Lagunare (Udine) che nel 2014 ha inventato una tecnica espressiva tutta sua: Actual-Primitive, che nelle due parole ne racchiude la caratteristica essenziale relativa sia all'utilizzo di materiale del presente (pigmenti acrilici) che al ricorso a quel materiale che la Natura offre. Niente pennelli, quindi, né matite, gomme e spatole: nessuno strumento umano. Leggiamo nella sua biografia che "all'improvviso […] si accorge di non riuscire più a dipingere con i pennelli avendone quasi paura, e capisce di dover cercare o meglio inventare, facendo ancora una volta ricorso alla sua fantasia, una nuova tecnica espressiva, dicendosi: "Se non posso dipingere con i pennelli dipingerò con tutti i vegetali al posto del pennello". Lo stile di Marina Corso è densamente figurativo e spazia da quelle che i Tedeschi poeticamente chiamano "vita silente" e noi traduciamo con "nature morte" ai paesaggi e alla raffigurazione di soggetti umani e animali. L'elemento comune dei suoi lavori, che spesso hanno titoli particolarmente "letterari" ed evocativi, è un'atmosfera onirica che a tratti richiama Marc Chagall e forse è proprio il fatto di non aver frequentato scuole (gli esperti dicono che in Italia le scuole d'arte non siano poi così utili), di esser libera dagli schemi, che le ha permesso di non "sporcare" la sua propria vocazione e di raggiungere risultati importanti: infatti nel luglio 2017 partecipa al "Premio Internazionale Arte Milano" a cura di Sandro Serradifalco vincendo il premio "Migliore natura morta" con l'opera "Pensiero nascosto", scelta da Vittorio Sgarbi e inserita nell'ottobre 2018 nella sua collezione privata per il museo d'Arte Contemporanea. Come definire Marina Corso? Pittrice naive? Pittrice "primitiva"? Forse tutte le definizioni sono limitanti e dobbiamo "accontentarci" di apprezzarle per quello che sono: spontaneismo pittorico. Dice infatti l'artista: "[…] non cercate nelle mie tele un indirizzo, non cercatelo perché in ogni dipinto ci sarà una Marina diversa e libera". E noi seguiamo il suo consiglio, perché l'arte è libera ...

Emanuele Beluffi
https://www.ilgiornaleoff.it/tag/marina-corso/




SPECIAL PROJECTS
Camminando per giardini, prati e boschi i miei occhi non vedono solo fiori, piante e frutti
ma tanti strumenti per creare le mie opere.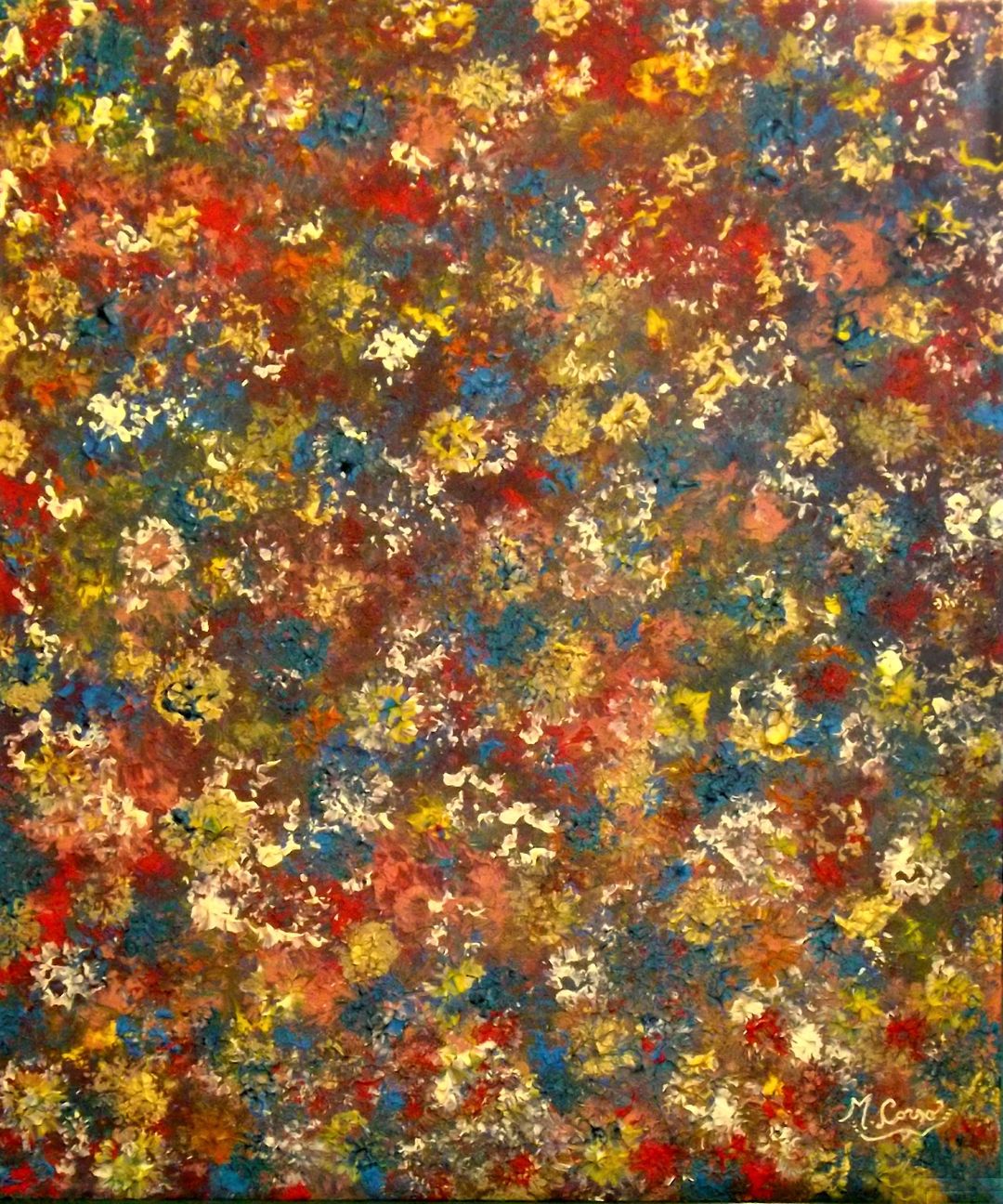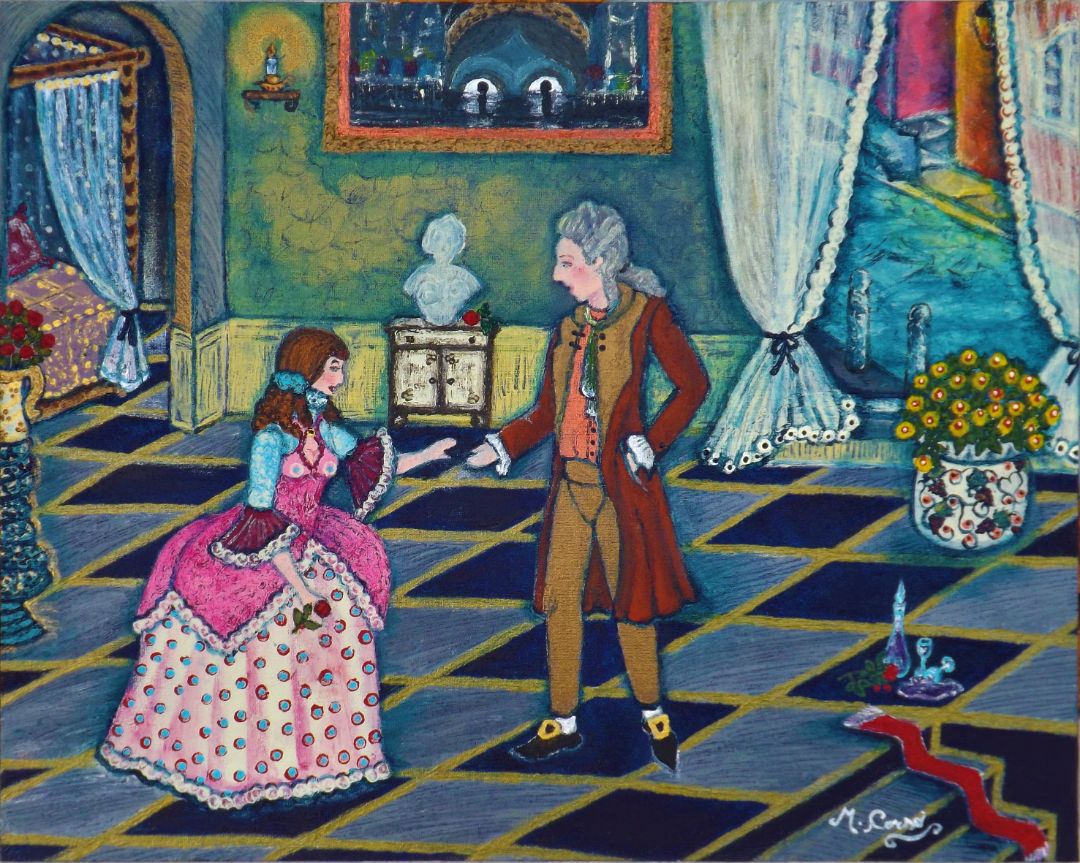 Casanova - Sutherland - Federico Fellini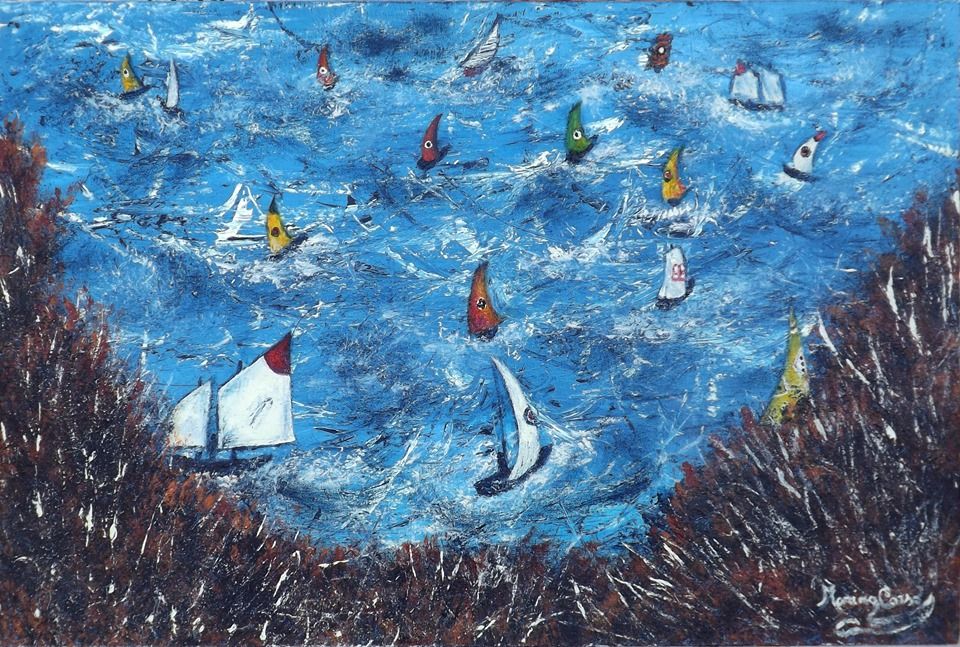 Cercami nelle mie opere perchè è li che troverai il mio infinito.
La mia arte ti ispira e vorresti conoscerla meglio? Chiamami senza impegno!
Magari ti posso far innamorare di una mia opera e trattare con te affinché diventi tua.
-
Does my art inspire you and would you like to know it better? Call me without obligation!
Maybe I can make you fall in love with one of my works and negotiate with you to make it yours.

CONTACT ME
La cosa che desidero di più è che le mie opere d'arte prima di entrare nella tua vita, entrino per sempre nel tuo cuore.

The thing I want most is that my works of art, before entering your life, enter your heart forever.

Marina Corso

Cell: 3401728747 - E-mail: mucho2009@hotmail.it